Lost/Destroyed Items
Material casualties from the accident have all reported in...
These are the items that Aleks lost in the accident and how they were replaced.
Note:
The big reveal/delivery is over. However, I did not go through this page to change everything to past tense.
Note Card Holders
To organize flash cards for Medical Terminology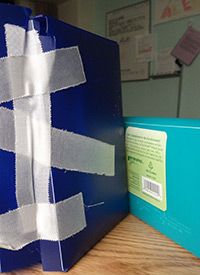 When Aleks first got her backpack back, one of things she was most heartbroken about was that her flash card holders had broken from the impact. She was torn up because she had purchased them from the campus bookstore at her college and they weren't exactly cheap. I remember when she bought them, she told me that she went back and forth in her mind several times about whether or not she really needed to spend the money on them.
<-- Clicky!
After she bought the card holders and organized her flash cards into them, however, she immediately fell in love with them. The little plastic cases made her studying substantially easier. I could tell when she was fighting back tears at the cases being broken that it was much more than just the loss of a material thing she was grieving. The obvious frustration from the wasted money aside, she was frustrated to lose the small edge she had given herself by having a handy tool to organize her work. Thankfully, the cards were all still in place and, as you can see from the picture, I was able to reattach parts of it with some surgical tape laying around.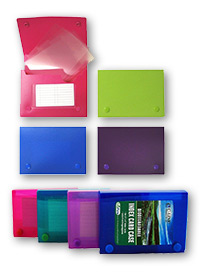 I ordered these new ones for her on Amazon: 4"x6" and 3"x5" I can't wait for her to get them. These are such simply little things, on the whole, but I know that having them back will mean so much to her.
<-- Clicky!
Grey Zip Up Hoodie
Mossimo Heather Grey 60/40 Blend Zip Up Hoodie - Size M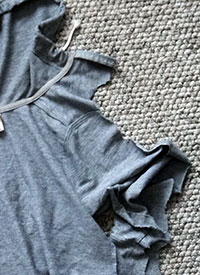 This is just a simple hoodie from Target. (Aleks loves Target) It was simple enough to find a replacement on there website (See) Unfortunately, it's out of stock online in grey and there isn't one within 100 miles of here so I had to get a little creative and try to find an acceptable substitute.
<-- Clicky!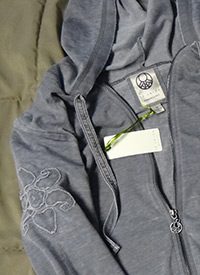 While it's not exact, I think Aleks will be very happy with what I found. It's a much more stylish, nicer feeling hoodie that I found at T.J. Maxx for $29.99. Yes, I know it's twice as much as Target's hoodie, but this is very much her style. I know she'll love the texture on the draw strings and the flower/sun pattern on the sleeve. If she doesn't like it, I still have the receipt. :)
<-- Clicky!
Sunglasses and Calculator
Big Giant Bug Glasses and a TI-30X IIS Scientific Calculator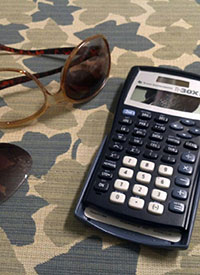 I already replaced her calculator so she could keep up with her homework. It turned out that I just happened to have the EXACT same calculator just laying around that I'd only used twice in college for a midterm and a final in the only class I'd ever taken where my TI-86 wasn't allowed.
<-- Clicky!
Anyway, the sunglasses are much more important. Personally, I've always disliked the gigantic sunglasses craze that broke out in the mid 2000's. I always said "If you have bigger sunglasses than my father...that's a problem." Regardless, Aleks LOVED these glasses. At least she freely admitted that they made her look like a bug...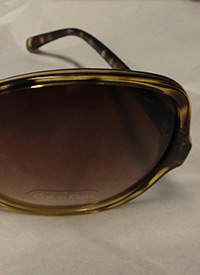 When Aleks saw that her glasses were broken, she didn't take it very well, as you'd imagine. I told her that I could probably fix them with a little super glue, but she was pretty bummed at the moment and insisted that they weren't even worth the effort since they were starting to crack and peel. (I gave her a hug at this point. Or...at least the closet thing I could in the hospital)
<-- Clicky!
I found these sunglasses also at T.J. Maxx. They're almost exactly like the ones that she lost and they're pretty solid. They're Calvin Kleins, so hopefully they'll last a while. When it's time for her to leave the hospital, she'll be do it in all of her former, bug sunglasses glory. :)
Coat
Double-breasted H&M pseudo argyle patterned coat, size 4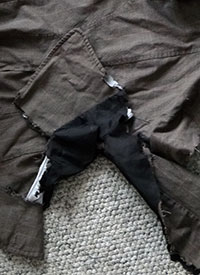 This is the coat that Aleks lost. I found it at a local Goodwill specifically for this year's Indianapolis Tweed Ride. It was in pristine shape when I got it and she absolutely loved it. She was pretty upset when she heard that it had been destroyed. Here is a nice picture and a ridiculous picture of her wearing it.
<-- Clicky!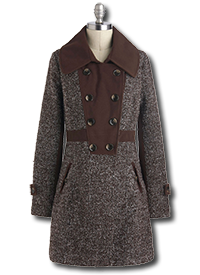 This coat here, recently discovered by Aleks on Mod Cloth, has made an appearance her on Facebook timeline. I actually was planning on getting her this as a Christmas gift anyway, but now it'll be part of the recovery package.
I will pay back the $89 for this coat into the fund and give this to Aleks for Christmas instead as I originally planned.
<-- Clicky!
Update!
Thanks to a wonderful find from a fellow Indianapolis Tweed Rider, Mary Beth, I have been able to replace the actual coat! Mary Beth found the same coat, in pristine shape, in the same size on ebay and forwarded me the link! Here's a link to the completed auction. I acquired it for $32.00, shipped. Admittedly, this is nearly five times what I paid for it at Goodwill, but it's worth it. Don't you agree? THIS IS SO EXCITING!
A tremendously huge thank you to Mary Beth for finding this coat, entirely unsolicited. This means so much to me and will mean so much to Aleks.
Boots and Shorts -or- FOR THE LOVE OF KOHL'S!
Super soft, "chunky" floral patterned shorts from Discovery, size M and Kohl's SO brand, tall boots, brown, size 9
Seriously, this story of customer service will blow you away. It very nearly made me cry. (again)
Aleks got these boots from Kohl's after we looked on line and shopped at various stores for hours trying to find the best deal. Ultimately, using my Kohl's card and a discount, the price was $36.37 with free shipping. (not bad for $89.99 boots!) Aleks paid for them and quickly fell in love with them. Here's what the boots looked like new: SO Tall Boots Brown Size 9.
<-- Clicky!
While I certainly will make every effort to repair the damaged boots for her myself, I decided to also investigate replacing them. On a whim, I called up Kohl's to see if they would be interested in helping a charity case like this one. My only free time was today, which unfortunately was Black Friday, so I was on hold for a healthy while. When the customer service rep, whose name I regretfully did not get, answered, I immediately apologized for calling with a complicated question on this busy day.
I proceeded to explain what had happened, how much Aleks loved the boots that she had, and whether or not he would be able to help me replace them with the same boots or something similar. After expressing his condolences, he regretfully informed me that the boots in question were no longer in stock for shipping and that there was only one pair left in the Indianapolis area. Unfortunately, because it was Black Friday, he couldn't have the pair held to be picked up for when I returned to Indy next. Instead, he started reading me SKU numbers of other boots to pull up on Kohls.com.
He asked me several questions about what Aleks looked for in the initial boot purchase and was very interested in finding a pair of boots that she would like. We ultimately didn't find another pair of brown boots. (yes, I know that there are brown boots on the site *now* but eariler today, the stock was entirely different) He linked me to the boots seen here at the left. (Reg. $89.99, sale for $44.99 (I swear this sale price changes every single time I look at the site I've seen it $44.99, $34.99, $29.99, it's different all day!))
<-- Clicky!
I mentioned that Aleks generally didn't care for the flat sole style, but I believed that she would like these boots anyway because there are several outfits I can picture her pairing them with. Then the customer service rep began to blow me away.
He said "If you like these, I can ship them to you for free and apply a 15% discount on them. No, wait, hold on, let's just make it an even $19.99 on these. So that's what, like just over a 50% discount from the sale price? Would that work for you?" I didn't know what to say. I mean...twenty bucks? Seriously? In the grand scheme of this entire accident, $20 is really nothing. I thanked him profusely. Then, believe it or not, it actually got better.
What you see the left here is what remains of some shorts that Aleks got at Discovery for a mere $2.00 on the clearance rack. Aleks and I are very similar in that we both really like getting deals. For just under $20 on that clearance rack, she found a whole slew of clothes that she absolutely loved. Of course, now the shorts are destroyed, but back to the Kohl's guy...
<-- Clicky!
After giving me a tremendous deal on the boots without any negotiating or haggling from me, he asked a question that, to me, was truly above and beyond the call of duty. Here this guy sits, on Black Friday, busiest day of the year, you can hear dozens of other service reps in the background, and he patiently and very thoughtfully asks "Would you like to describe any of the other clothes she lost? Perhaps I can help you find a good match." Seriously, I may shop at Kohl's the rest of my life...
I describe to him Aleks' penchant for small floral print clothes and he begins searching and sending me SKU numbers again. After sending me a few different pairs of shorts that weren't really close to what I was looking for, I settled for the ones here on the left. (Reg. $30.00, sale for $21.99 (again, your mileage may vary on the sale prices))
<-- Clicky!
While these shorts aren't perfect, I still believe that Aleks will still like them, and if she doesn't, the rep assured me that she can return or exchange them. He said "So...let's see...how about I just knock these down to an even $10 for you and lump them in with the boots for free shipping?" Again, that's more than a 50% discount. Also again, I didn't have to haggle or negotiate at all. He simply offered this to me.
So needless to say, I'm completely blown away by my Kohl's experience today. For a grand total of $32.09, which is less than the cost of the original boots, a new pair of boots and shorts for Aleks will arrive on my door step in a few days. Each and every day I'm amazed at the generosity and empathy shown by friends, family, and now complete strangers. (this message is not a paid advertisement for Kohl's, I promise) :)
Grey Tights
Grey Mossimo brand 95% cotton 5% spandex tights from Summer 2011 at Target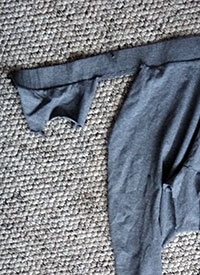 I haven't had a chance to go to do any in-store shopping to replace these yet. Aleks specifically lamented the fact that she had precious few pairs of tights so I want to make sure that these are replaced.
<-- Clicky!
So far, I'm having trouble sourcing these. These have a fairly wide waistband, not quite yoga pants wide, but still wider than most tights. The waistband is also nice and flat instead of foldy like sweat pants. Target.com doesn't have them anymore. I thought these were pretty stylish: Mossimo Sweater Leggings and would compliment many of her outfits nicely, but they don't have her size. (She needs a small in Target sizes) When I get back to Indy, I'm going to check the local Targets to see what I can find.
Alternatively, I found some at American Apparel: Cotton Spandex Jersey Leggings However, I'm hesitant because 1) I dislike American Apparel's business practices. 2) Their sizes tend to run smaller than other brands and I'm not 100% if Aleks needs a small or medium. 3) They're about 3x more expensive than they need to be!
Update!
I was able to pick up an almost exact replica of her tights at Target today. Same cotton/spandex blend and color, just a different brand for $7.00. (I had a coupon for $5.00 off I spent over $50. I had some other stuff to buy, you know, Christmas presents for my girlfriend, which took me over the top. I just passed the $5.00 on to her tights so she could have more cash in her pocket in the end.)
Yellow Shirt
Yellow super soft Aeropostale "Ath. Div." t-shirt, size M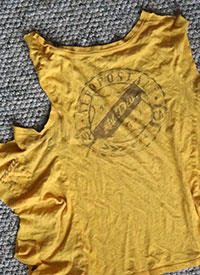 I have a feeling that Aleks liked this shirt less for the color and more for the feel. This shirt is SO soft. I already searched Aeropostale's site and couldn't find anything close. I figure that I should be able to source this one on a mall clearance rack. I'm not too concerned about it being the same brand in this case, just yellow, well fitting, and soft.
<-- Clicky!
I'm still on the lookout for this one. Suggestions are welcome.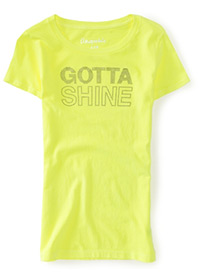 Since I was unable to find a shirt that very closely matched Aleks', I decided to go with any yellow shirt from Aeropostale that was the same size. Of all of the ones I looked at, I believe this is the one she would like the most. Not bad for under $10. :)
<-- Clicky!
95
supporters
$5,125
received of $1,500 $10,000 goal
(Last updated: 2013/02/28 12:33 EST)
This campaign is officially closed, thank you for your contributions!
Expired Goals
Goals below this box were only for the original campaign. I'm leaving them here for posterity so that people can understand why the
Faculty/Staff List & Class Roster
are designed they way they are.
Donate $0 or more:
12 First Years so far...
Your name will be penned in calligraphy on the Class Roster along with the other First Years. Your house will be chosen at random via a four-sided die.
Donate $10 or more:
34 Upper Classmen so far...
As an Upper Classmen, your name will be penned in calligraphy slightly larger on the Class Roster. You may choose your house. (Please include your choice of house with your donation)
Donate $30 or more:
7 Prefects so far...
As a Prefect, your name will appear prominently in calligraphy in the house of your choice. You may also include a message to Aleks up to 140 characters (a tweet!) for me to add, also in calligraphy, under your name. (Please include your choice of house and your message with your donation)
Donate $40 or more:
1 Head Boy/Girl so far...
Donations at this level will grant you Head Boy or Head Girl status. Your name will be among those most prominently featured in the house of your choice on the Class Roster. In addition, you may include a personal message to Aleks of up to 280 characters. (Please include your choice of house and your message with your donation)
Donate $50 or more:
18 Staff members so far...
Congratulations on your appointment to Hogwarts. As a Staff member, your name will appear on the Welcome Letter. You may choose the name of your non-faculty position and house if desired. Additionally, you may include a personal message to Aleks of up to 140 characters. (Please include your choice of staff job title, house, and your message with your donation. If you do not wish to come up with a title, I'll think of something fun and appropriate.)
Donate $75 or more:
3 Professors so far...
As an esteemed member of the Hogwarts Faculty, your name will appear larger on the Welcome Letter. You may choose the name of your department or specific courses that you teach and house if desired. Additionally, you may include a personal message to Aleks of up to 280 characters. (Please include your choice of department/courses, house, and your message with your donation. If you do not wish to come up with a title, I'll think of something fun and appropriate.)
Donate $100 or more:
19 Department Heads so far...
Privileged Department Heads have their names prominently featured in the Welcome Letter and may dictate the name of their department and house and also include a personal message to Aleks of up to 420 characters. (Please include your choice of department, house, and your message with your donation. If you do not wish to come up with a department, I'll think of something fun and appropriate.)
Donate $150 or more:
2 Assistant Headmaster so far...
As an Assistant Headmaster, your responsibilities are great. As such, your name on the Welcome Letter will also be great. In addition to choosing your house, you may include a personal message to Aleks of up to 560 characters. (Please include your choice of house and your message with your donation.)
Donate $200 or more:
5 Former Headmaster so far...
Former Headmasters of Hogwarts have their names featured most prominently on the Welcome Letter, may choose their house, and may include a personal letter to Aleks up to a full 1,000 characters. (that's a lot of calligraphy!) (Please include your choice of house and your message with your donation.)

I reserve the right to "promote" anyone to a higher donation tier in order to make the final deliverable look better. No one will be "demoted" and besides, Aleks won't see who donated what anyway, so don't get too hung up over it.